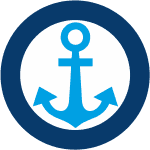 The marina of Sporting Club Domaso can host up to 45 boats from 5.00 m to 10.00 m.

The mooring is secured by ropes front, and the structure consists of floating pontoons anchored to poles. A large breakwater provides adequate security for the boats hosted by repairing the implant by summer winds of Lake Como.

The berths are equipped with water, electricity, CCTV system and the area is covered by Wi-Fi signal.

For less demanding 5 berths are also available to the buoy.